I first noticed the issue on March 5th and didn't know what the cause was. The best way to describe it is that my touch controllers had laggy, exaggerated movement that seemed bouncy or elasticy (my hands in-game were moving much more than my real hands). Before I knew what the problem was, I ended up taking several unnecessary steps in an attempt to fix it—This included reinstalling most of my VR related software games and tools. DON'T WASTE YOUR TIME REINSTALLING EVERYTHING!
If you've experienced some janky tracking in the last week or two it could be because of Windows cumulative update 2019 – 2 (KB4482887).
Microsoft recognized the problem and report it in the updates known issues as "After installing KB4482887, users may notice graphics and mouse performance degradation with desktop gaming when playing certain games, such as Destiny 2." The update details are available at https://support.microsoft.com/en-us/help/4482887/windows-10-update-kb4482887
The update only causes issues on some machines, so not everyone was effected. If you were effected you can fix it by removing the update from Windows Update, or by making sure that you have received the most recent updates.
Installing the update released on March 12th should automatically fix the issue.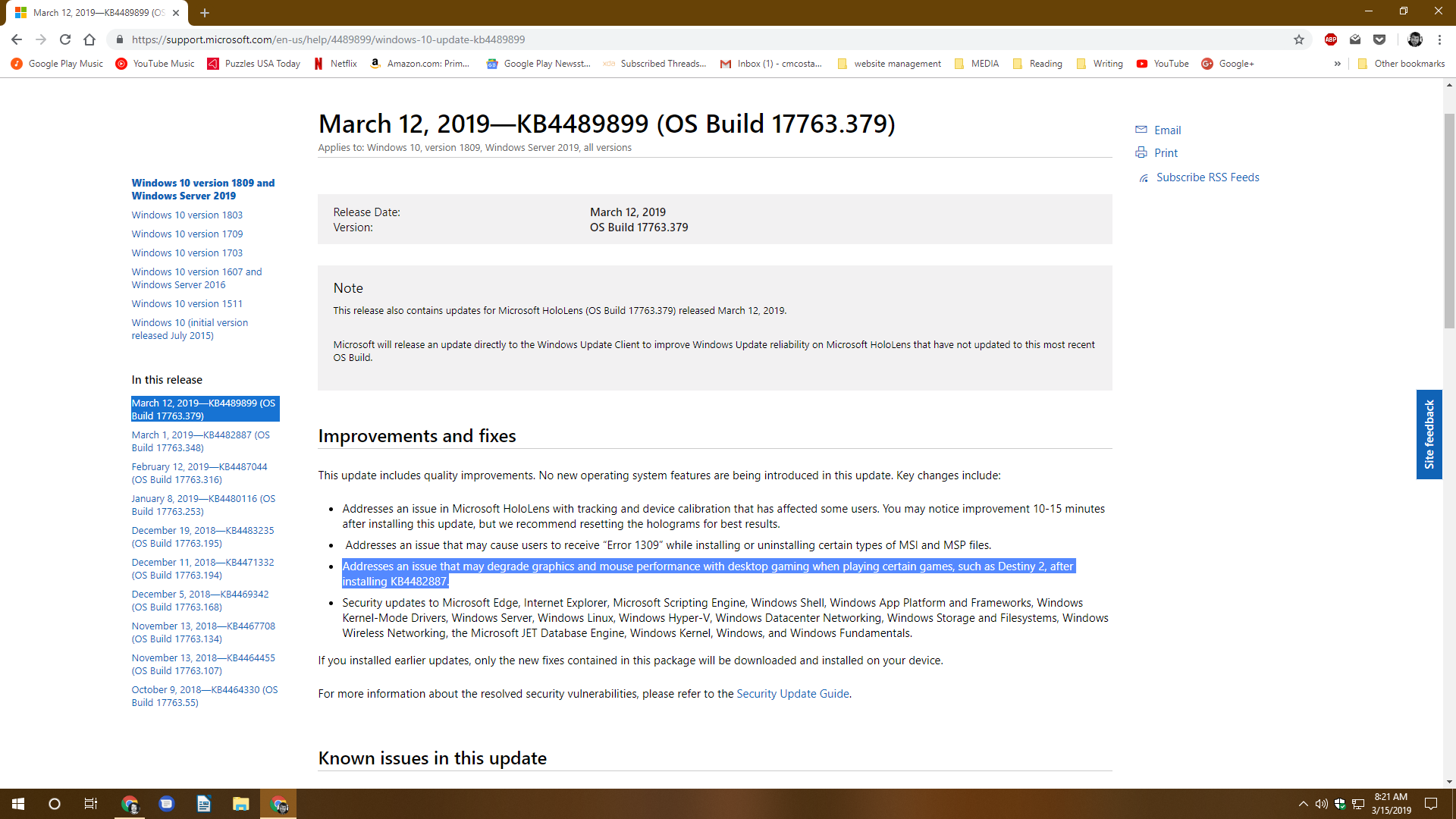 March 12, 2019—KB4489899 (OS Build 17763.379)
If for some reason you are still suffering adverse effects here's how you remove the update in Windows.
Press or click the Start button (windows icon)
Start Menu
Open the Update History by typing while the Start Menu is open
When you open the update history it should look similar to this (may differ in color because I have dark mode enabled in Windows). Click the link at the top that says Uninstall updates.
In the new window that opens look for update KB4482887. (You don't see it in my screenshot because I've already removed it from my computer.) Select
KB4482887 by clicking on it, and then click uninstall. You will likely need to reboot after uninstalling.