Oculus Link is Available in Beta
Oculus Link allows you to use the Oculus Quest—an otherwise wireless, stand-alone headset—to play Oculus Rift PC games via tethering using a USB cable.
This allows you to expand your library and play many high quality PC VR games from the Oculus Store, and even Steam, on the mobile headset whiled plugged into your computer—great news if you want to play some massive games like Fallout 4 VR, Skyrim VR, and No Man's Land. Two recent AAA game titles that Oculus is happy to announce working with Link are Asgard's Wrath and Stormland.
Basically, your PC streams to the headset using H.264 video compression, VR compositor functions are split between the headset and the computer to reduce latency, and bingo-bango you are playing PC VR on the mobile VR headset.
On November 18th Oculus released the beta version of its Link software to the public. Read the press release from the Oculus Blog.
If you want to know more of the nitty-gritty detail on how it works check out this post on the Oculus Developer Blog.
For many, trying out Oculus link right now is not an option
At the time of this beta release, only NVIDIA graphics cards are supported. Most modern NVIDIA cars are supported, excluding the Titan Z and GeForce GTX 1060M (laptop). This means that, like myself, anyone with an AMD GPU are currently unable to take advantage of the software.
The currently supported GPUs are
NVIDIA Titan X
NVIDIA GeForce GTX 970
Desktop NVIDIA GeForce GTX 1060
NVIDIA GeForce GTX 1070(all)
NVIDIA GeForce GTX 1080(all)
NVIDIA GeForce GTX 16-series(all)
NVIDIA GeForce RTX 20-series (all)
Future support for high-end AMD cards is expected, but it is yet to be revealed exactly which AMD cards Oculus will eventually support.
The list of unsupported AMD GPUs include AMD 300, 400, 500, 5000, and Vega Series cards, suggesting that support may come to most if not all of these series eventually.
Note: We're working directly with AMD to support as many of their cards as possible by the time the beta period ends.

Oculus Link Compatibility
Update: Users on Reddit have reported some success with Oculus Link on AMD GPUs. Many report a lot of graphical stuttering especially with the AMD VEGA RX 56 (that's what I currently have). So, it seems that "unsupported" just means not guaranteed to work currently.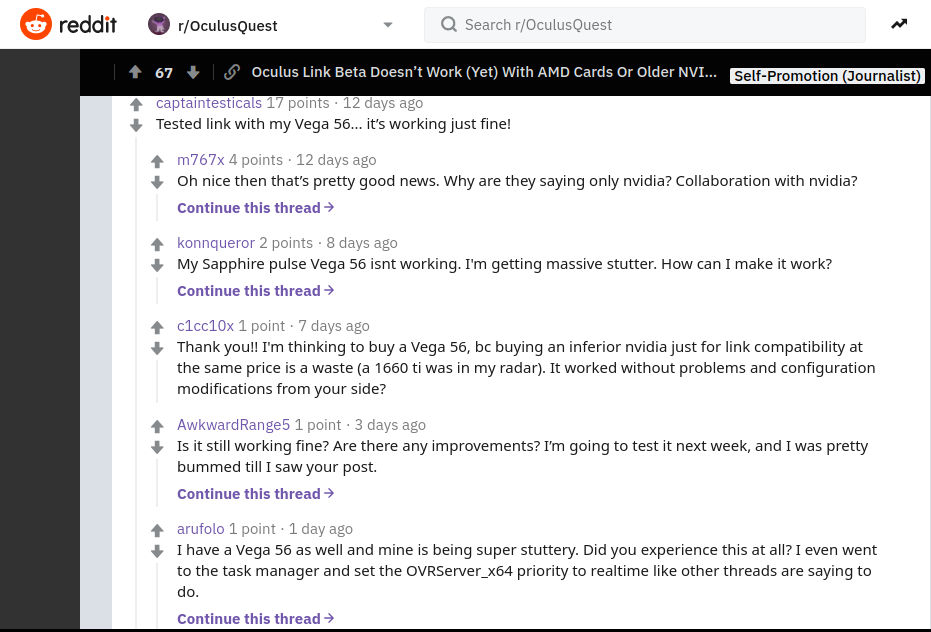 To take advantage of the software you will also need a new USB-C 3.0 or better cable
Oculus Link requires a high-quality USB 3 cable. We'll be releasing our Oculus Link cable later this year, but for the beta period we recommend looking for a high-quality USB C to C or USB A to C cable with proven performance.

Points to keep in mind:

The USB 3 cable should be approximately 3 meters (10 feet) for an optimal and comfortable experience.
The charging cable that came with your Quest won't work with the Oculus link software. The Quest charging cable is USB 2 while Oculus Link requires a USB 3 cable that can support both power and data.
The cable that Oculus Quest comes with is only USB 2.0, so they suggest purchasing this 10ft Anker cable.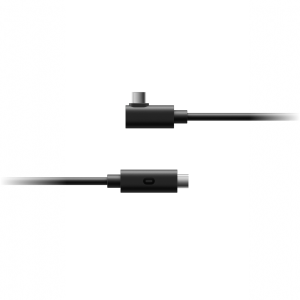 Oculus is making their own 5 meter long fiber optic cable specifically for Oculus Link which should be available early 2020, see the specs sign up to be notified when its available at https://www.oculus.com/quest/accessories/.
Other Considerations: minimum PC hardware specifications and performance.
You will need at least an Intel i5-4590 / AMD Ryzen 5 1500X or greater processor, 8+ GB of RAM, one of the supported GPUs, Windows 10, and an a USB 3.0 port.
Games played through Oculus link will be at lower resolution and frame/refresh rate than compared with the Oculus Rift/Rift-S. This means the image would be a slightly blurrier than with the PC headsets.
Oculus Quest uses two diamond Pentile OLED displays, each with an individual resolution of 1440 × 1600 and a refresh rate of 72 Hz

Rift S uses a single fast-switch LCD panel with a resolution of 2560×1440 with refresh rate 80 Hz

WikiPedia
The Quest also has fewer tracking cameras than Rift S, meaning potentially less accurate tracking or more trouble with blindspots. Both headsets use the same tech for inside-out tracking, with optimal camera placement for each, but the Quest's mobile processor can't handle as many cameras. The Quest has 4 tracking cameras on the corners of the HMD, whereas Rift S has 5 cameras with optimal placement. This may not be noticeable in casual play, but tracking accuracy could potentially lose an edge in competitive performance.
There is slightly higher latency on Quest when using Link, so if a game is natively supported on Quest the Quest will perform better than a Rift Link-ed version.